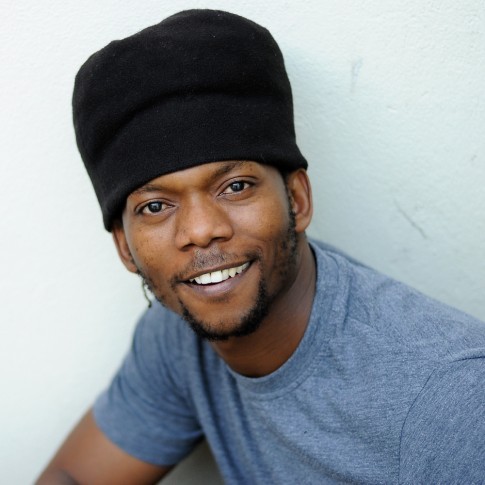 Bawren Tavaziva's dynamic style is a choreographic synthesis of ballet, contemporary and African dance.
Bawren Tavaziva grew up in a rural village near Masvingo in Zimbabwe. Football, Michael Jackson, New Edition and Kung Fu movies viewed at the local community hall provided inspiration to Bawren and his friends. Bawren's musical talents also developed at this time on a guitar made by his brother from a 5 litre tin can and fishing wire.
At the age of 12 Bawren Tavaziva attended an outreach ballet project with the National Ballet of Zimbabwe at his local community centre.
From day one, his determination and talent led him to a life-long passion for dance. He danced with Tumbuka for five years and toured Africa. He came to England to join Phoenix and Union Dance and in 2004 he presented his own choreography and music as a finalist at The Place Prize with a deeply moving quintet entitled Umdhlalo Kasisi, in memory of his sister who sadly died of HIV.
After this, Bawren formed his own company and became Artistic Director of Tavaziva Dance and in the same year won a fellowship with Dance of the African Diaspora's Trailblazer programme. He went on to produce further works for his own company. His productions include BOY'S KHAYA (premiering in 2021), Izindava 2017, Africarmen 2015, Tavaziva Ten 2014, Greed 2013, Sensual Africa 2012, Double Take 2011, Wild Dog 2010, Heart of Darkness 2009, Chatsva 2007, Bophelo 2006, and Soul Inspired 2005.
In 2015 Bawren Tavaziva and South African dancer Bafana Solomon Matea choreographed a large-scale dance piece called Madiba. It took place along Mandela Walk and the Riverside Terrace at London's Southbank Centre, and was performed by degree and graduate dancers from Trinity Laban Conservatoire of Music and Dance.
In 2016 Artistic Director of Rambert Mark Baldwin OBE invited Bawren to work with Polka Theatre's Artistic Director Pete Glanville to create Mud Child, a new work for children and family audiences.
In 2018 Bawren choreographed a piece for Phoenix Dance Theatre's Youth Group, that was performed in Leeds and London as a part of a collection of works that had been conceptualised with the aim to raise awareness on, understand, and communicate issues around HIV/AIDS. He was also invited as a Shona Dance Consultant for Black Panther star and Tony-nominated writer Danai Gurira's striking play 'The Convert'. Bawren gave guidance on Shona Dance techniques and led a Q&A teaching the cast about traditional Zimbabwe in the 19th Century, and the Shona tribe in particular.
Tavaziva has produced a Black Dance Archives Learning Resource that documents Bawren Tavaziva's dance career and includes interviews with Bawren and workshop examples.
Every dancer is magnificent— every single one. It is a contemporary African masterpiece.
*****Afridiziak Theatre News
The most defining feature of his movement is the attack of the dancers, the strength of their technique and their joy in dancing.
The Stage