We are delighted to welcome two new Associate Members to the Tavaziva team. Dzifa Benson and Euton Daley MBE will serve as advisors and advocates supporting the Board and Staff to deliver the company's ambitions for the next three years.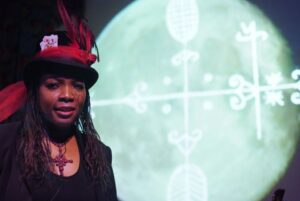 Dzifa Benson is a multi-disciplinary live artist who uses literature as her primary mode of expression. The intersections between science, art, the body and ritual and by the question of who or what is invisible animate Dzifa's practice. She explores this through poetry, storytelling, theatre, performance, libretti, essay, journalism and a range of other media. She has performed her work internationally in many contexts such as: the Courtauld Institute of Art, City & Islington College, Time Out, The Guardian, Southbank Centre, Tate Britain, They Royal Opera House, ITV Studios, Kings Place, Edinburgh Fringe Festival, the Shakespeare & Co Bookshop in Paris and other venues across the UK and abroad.
Euton Daley MBE has more than 30 years' experience of community development through the arts working with artists, young people and communities. His experience and leadership has turned ideas into reality, from project management and partnership development, budget planning and raising funds, to opportunities and mentoring for young people and communities with little or no access to the arts. He was artistic director and chief executive of Pegasus Theatre, Oxford for 23 years, responsible for establishing it as a major youth arts organisation with an impressive portfolio and a growing national and international reputation. Euton has also played a key role in landmark cultural initiatives, including Dancin' Oxford, Cowley Road Carnival, Oxfordshire Youth Arts Partnership and Mesh (Oxford's international youth arts festival). In 2008, he was awarded the Member of the Order of the British Empire for services to the arts and young people.
Euton founded Unlock the Chains Collective in 1986 to explore performance poetry (spoken word) as a theatrical form and to develop a dialogue with various social struggles at the time. Dormant for over 20 years, it reformed in 2013 to continue the journey and give Black artists performance platforms and to present and celebrate the Black experience whilst developing a Black Arts aesthetic.