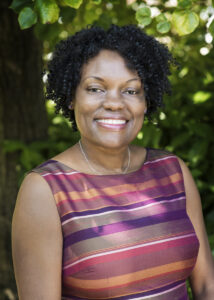 Tavaziva Dance is delighted to welcome Mercy Nabirye FRSA, FWL as our new Chair of Trustees from April 2021.
Mercy takes over from Marie McCluskey MBE who has been an instrumental supporter of the Company and Bawren Tavaziva since the beginning of his career and we are delighted Marie will continue her support as a Trustee.
Mercy Nabirye is Founder and Director of Kauma Arts which is dedicated to supporting and connecting talent across diasporas rooted in Africa. Until recently she was Head of Dance of the African Diaspora (DAD) at One Dance UK producing programmes such as Re:generations International conference and the Trailblazers Fellowship for professional development, enriching our future dance leaders and our industry.
Her advocacy work is driven by a passion for change on a national and international scale and her combined knowledge and experience as a strategic manager and former performing artist, choreographer, producer and writer for stage and screen, makes her an outstanding leader and visionary.
Mercy has been a valued Trustee since 2017 and Deputy Chair since 2020 and we all look forward to the next stage of Tavaziva's creative story under her leadership.
"As one of the original Trailblazers, I know how valuable having someone's support and recognition is, and in my heart and soul, it is a great honour to be working with Mercy as the Chair of Tavaziva Dance."
– Bawren Tavaziva